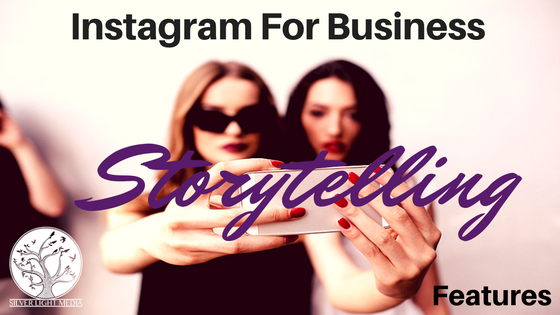 Instagram For Business: Storytelling Features
Did you know you can manage your Instagram Business account from Facebook?
Wait, hold up, did you miss the news that Instagram created specifically profiles for businesses? I'll help you understand the latest changes from this visual and social powerhouse in this post.
With 500 million plus monthly active users and 95 million daily posts according to Instagram's website this platform could help you reach more customers than before. With creativity driving the medium let users be inspired by the lighter side of your company's story.
Businesses have been a part of Instagram's community since the beginning showcasing services and products. If you have an Instagram profile, you are using for your business quickly convert it to a Business Profile for increased insights, analytics, and the option to run advertisements.
From your profile home page click on the option wheel at the top and click 'Switch to Business Profile' to convert your account. 
If you have a Facebook Business Page, your accounts will link giving you the options to run ads via Facebook Advertising. After converting your account, you'll notice 'View Insights' & 'Promote' under each post. Click on 'View Insights' and you'll see the Impressions, Reach, and Engagement for each post. Click 'Promote' and Instagram will open Facebook Ads giving you the option between two calls to actions.
Visit your website
Call or visit your business 
Next, you will need to select an Action Button. Click 'Select Button Text' to choose between:
Learn More
Watch More
Show Now
Book Now
Sign Up
Contact Us
Next, you will need to target your ad to a specific audience.
Instagram helps you create an 'Automatic' audience based on people who might be interested in your business. I recommend creating a targetted audience. It's easy and just takes a few extra steps.
1 – Name the audience you are targeting so you can save it for use later.
2 – Select the location(s) you wish to target.
3 – Select your target audience's interests. 
4 – Select the age range of users you wish your ad to target.
5 – Select the gender of users you plan to target with your ad.
Then create your total ad budget and the select the duration you wish your ad to run for during the campaign.
By implementing targetted advertisement, you have greater control of the audience that view your content and can make users take a particular action through the touch button the ads provide.To cater to your growing audience be sure to take advantage of new ways to Share In The Moment on Instagram.
Sharing In The Moment 
Back in August Instagram announced the Stories feature, now over 100 million people use it daily. The feature opens up a new way of sharing for businesses. On November 21, 2016, changes were made adding live video to Instagram Stories.
Going live is easy just swipe right from your camera, tap the 'Start Live Video' button and share for up to an hour.While following someone that starts a live story, you'll see 'Live' under their profile in the stories bar. Also, view new live stories through the 'Explore' feature. Tap on 'Top Live' to see stories happening around you. Try out the feature to share an extended view of your business.
Disappearing Photos & Videos for Followers & Groups in Instagram Direct
Try sending disappearing videos and photos directly to groups in a pressure-free and spontaneous way. Since improvements to the feature last year, the numbers have grown from 80 million to over 300 million active users sending messages via Instagram Direct.
Swipe right to take a video or photo, then tap the arrow icon to send it privately. You can choose a previously created group or choose a new one by tapping on user's photos. This function is an innovative way to send product sneak-peeks and make your loyal followers feel like they have access to exclusive content. You'll find disappearing photos and videos in a bar at the top of your Instagram Inbox.
Ready to start integrating these features?
Schedule a complimentary consultation with Silver Light Media to learn about social media training or strategic content management, here. Call us at 208.284.5570. For tips, click here, to read our blog. Share your inspiration using #SL_Inspires on Instagram.