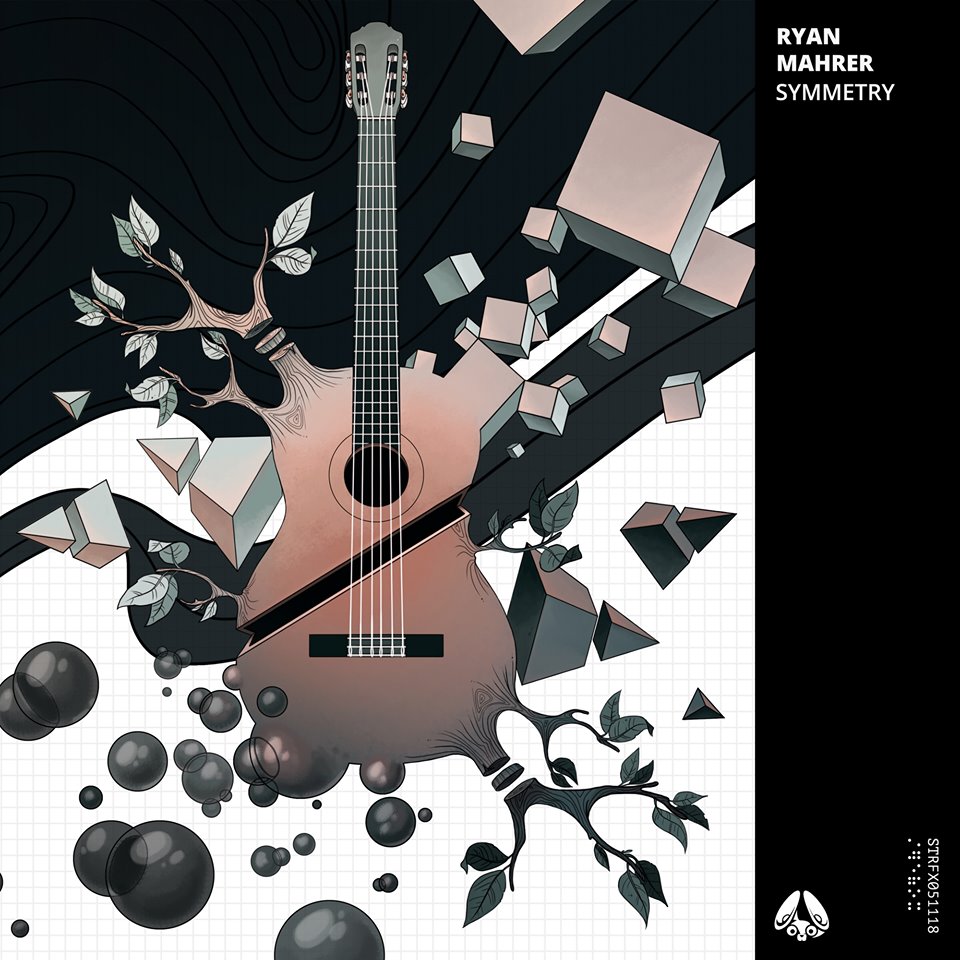 Ryan Mahrer Symmetry EP Release + Interview
You may know him as the co-founder and member of the Denver based production duo, Tortuga (@tortugabeats), Ryan Mahrer recently dropped the EP titled "Symmetry" and is gearing up to take his self-titled solo-project on the road this summer. First stop, Electric Forest, June 27-30th in Rothbury, Michigan. Our founder, Aryonna Richard, caught up with the producer and musician to get the scoop on his new project.
Aryonna: Ryan, clearly you have a true passion for music since you are not only a member of Tortuga but an emerging solo artist, can you tell our readers about one of your first memories that involves live music?
Ryan: Absolutely! Some of my first memories involving live music actually come from my years as a classically trained musician. As many musicians have experienced, I was forced to play in piano recitals a few times a year. I think ever since that point I've really enjoyed being on stage. When you can get the butterflies to go away – which simply happens with time – performing live can be one of the best feelings I've felt!

Aryonna: For the past four years, you have been a member of Tortuga, can you tell our readers why you decided to create a solo project in addition to your collaborative ventures?
Ryan: Tortuga is still an active group. Tyler and I are making music together and have been working on future Tortuga releases. However, he and I are the type of producers who are constantly creating and a lot of the time, the sound doesn't "vibe" with the normal Tortuga brand. So, we decided to both create side projects to give us an avenue to release more music and drive traffic to all of our music – both solo and Tortuga's. If you haven't check out the other half of Tortuga side project – VVIERD listening will give you some insight into the elements that each of us brings to the table for Tortuga.
Aryonna: When did you begin working on the tracks for "Symmetry"?
Ryan: Over a year ago!

Aryonna: Can you describe the musical influences you had when created the EP?
Ryan: I think that all of my influences are vested in a very bluesy format. I like to anchor my tracks with a bluesy undertone if you haven't noticed. Stevie Ray Vaughn was one of my idols growing up and I learned to think about music through his influence. Of course, I love modern forms of music also, but I would say I am most influenced – all around – by the musical genre known as blues.

Aryonna: Who did you collaborate with on the EP?
Ryan: I had the opportunity of working with six amazing artists from across the United States for this release. ProbCause, Lily Fangz, Mr. Lif, Dylan Montayne, Kish on the Sax and NYM. Each individual lives in a different state then the next, so building these tracks took a ton of back and forth but all was also met with excitement to be a part of the project. I honestly can't say anything but positive things about all the artists I've worked with on this. All were so professional and amazing to work with!

Aryonna: How would you describe the EP in less than five words?
Ryan: Music for the summer!

Aryonna: What was it like working with the team at StereoFox?
Ryan: Ivo and Mike have been running point on this release for StereoFox. They have been nothing short of amazing to work with! For any up and coming or national touring musicians, I would suggest reaching out to them to facilitate a release. They were able to get cross promotions on a number of amazing labels and blogs – Earmilk, Gravitas, Westword, Hype M, etc. It's made a HUGE difference in how the release has been received. I can say with total certainty that this release would not have been as successful as it has been without ALL of their efforts. Thanks guys!

Aryonna: Your EP was covered by All Good Records the first week of release and is currently on Griz's Reddit Page. How does it feel to have your solo release picked up by such a huge name in electronic music?
Ryan: Honestly, incredible. My girlfriend saw it first, snapped a picture and sent it to me. I was honestly blown away. I see those guys as pioneers to this style of music. I wouldn't be creating the music you're hearing if I didn't have a heavy influence from all the artists who have been on that label. This is also a huge reason why working with ProbCause was such a great experience. I've loved this style of music for as long as I've been listening to electronic music. Definitely felt like it came full circle.
Aryonna: What can our readers expect from your set at Electric Forest this year?
Ryan: You always ask this question and I always say the same thing 🙂 I guess you'll just have to show up and check it out for yourself! No tea spilled on this end!

Aryonna: What time and what stage will you be performing?

Ryan: I am confirmed for a Silent Disco set on Saturday from 1 am to 2 am! A prime spot for this stage.
Aryonna: Do you have plans to release a follow-up EP soon?
Ryan: I am currently working on a TON of new music. Some of it sounds like stuff you've heard me produce and some of it doesn't. I like to challenge myself to create different genres of music, even if they tank and no one ever hears them. But to make a long answer longer – I don't have an answer for you in regards to a specific release or EP. For now, just know that I am in the kitchen and soon, dinner will be served!
I want to give a huge shout out to all the amazing artists on this EP as well as StereoFox for being apart of the entire release. Thanks to you also Aryonna for all the prolonged support throughout this journey! Onwards and upwards!

Ryan Mahrer
As you can read in this interview, Ryan has a life-long passion for music that now exudes through multiple channels. Don't wait! Listen to the EP – "Symmetry" for yourself below. Stay connected to Ryan Mahrer on Facebook and Instagram. He is an innovative Denver-based artist with local and national ventures ahead. Congrats on the solo-release we couldn't be more honored to have followed your journey for many years now!