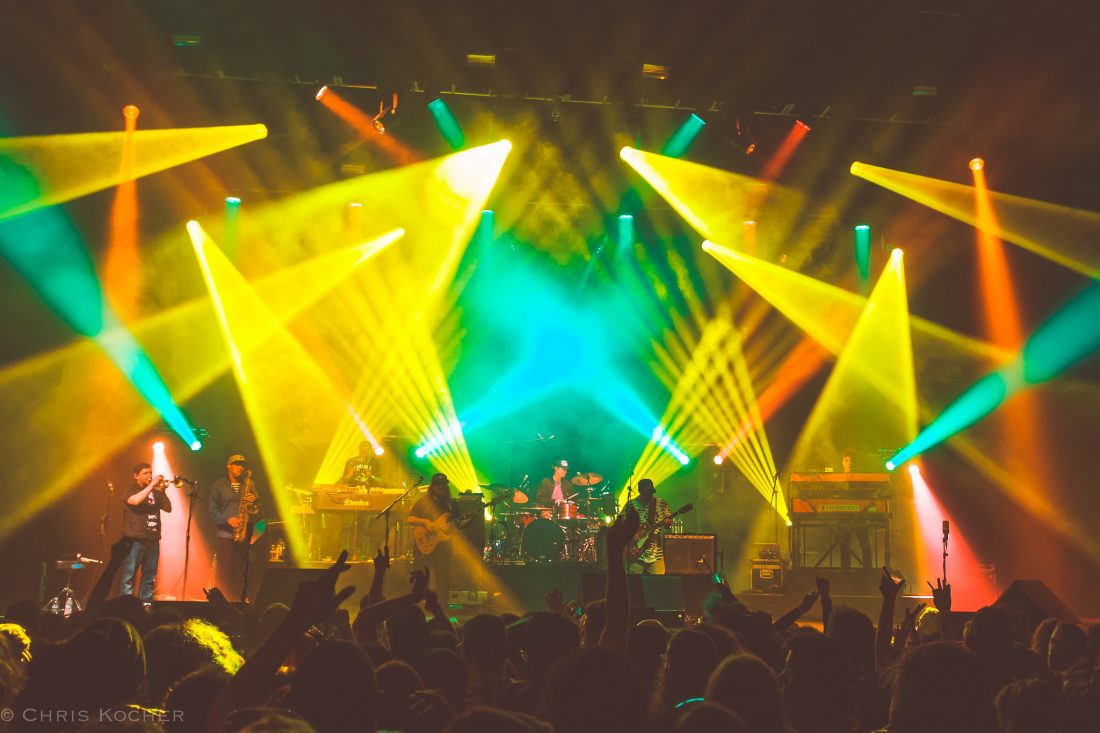 Lettuce at the Fox Theater – Oakland – Event Review
It was Saint Patrick's Day. Everywhere you looked people were wearing shades of green.
The evening sunlight was beginning to fade and the sky darken to a blue-purple. I too was wearing green, however it wasn't just for the holiday. My reasons were far more musically inclined. Tonight I was ready to get funky with the band Lettuce. 
Lettuce is a band of many talented musicians. The eight member band is comprised of drummer Adam Deitch (Break Science), guitarists Adam Smirnoff and Eric Krasno (Soulive), bassist Erick "Jesus" Coomes, keyboardist Neal Evans, saxophonist Ryan Zoidis, and trumpet players Eric Bloom (Sonic Bloom, and performed with Pretty Lights Analog Future Band) and Rashawn Ross. What happens up on stage when these musicians start performing is a sight to witness.
Lettuce embarked on their Mt. Crushmore Tour with a 2 night run at Brooklyn Bowl in NYC on January 3rd & 4th.
They worked their way west through February and landed on the west coast in early March. The Floozies and Russ Liquid Test joined Lettuce on stage at the Fox Theater – Oakland, a special celebration of funk and experimental electronic bands.
The night opened with Russ Liquid Test blasting basslines interlaced with production and brass from Russell Scott, guitarist Andrew Block, and drummer Deven Trusclair. An extended set break led to The Floozies sending us into a frenzy with guitarist Matt Hill and drummer Mark Hill grooving along building the night's energy. Before I knew it the Fox was lit with lasers arcing across the ceiling and mezzanine. Cheers broke out and the party was only beginning.
I'd like to give a set list, or even talk about a few of the songs that Lettuce played during their set, however the energy of the night carried me away and led to an outpouring of dance moves and connecting with strangers. Fans of Lettuce know the experience: Deitch starts laying out a beat and Coomes strums along. Bloom and Zoidis blast away with their brass and the energy builds as a sonic explosion of guitars and keyboard zip in static focus. It's magic what these guys do up on stage. Their energy is infectious.
The set went on well into the night, lasting over 80 minutes as build up onto build up moved the crowd along. Occasionally I'd look around and see nothing but smiling faces and hands up in the air. I relocated a few times as the crowd seemed to only push towards the front, eager to catch more of the funk. The dance floor was packed and felt like any sold out show I've been to at the Fox.
Lettuce will be returning to the Red Rocks Amphitheater with their 2nd annual Rage Rocks show on May 13, 2017.
Supporting acts include Ghostface Killah, George Porter Jr, Cyril Neville, Turkuaz, The Russ Liquid Test, J Rocc, and more.