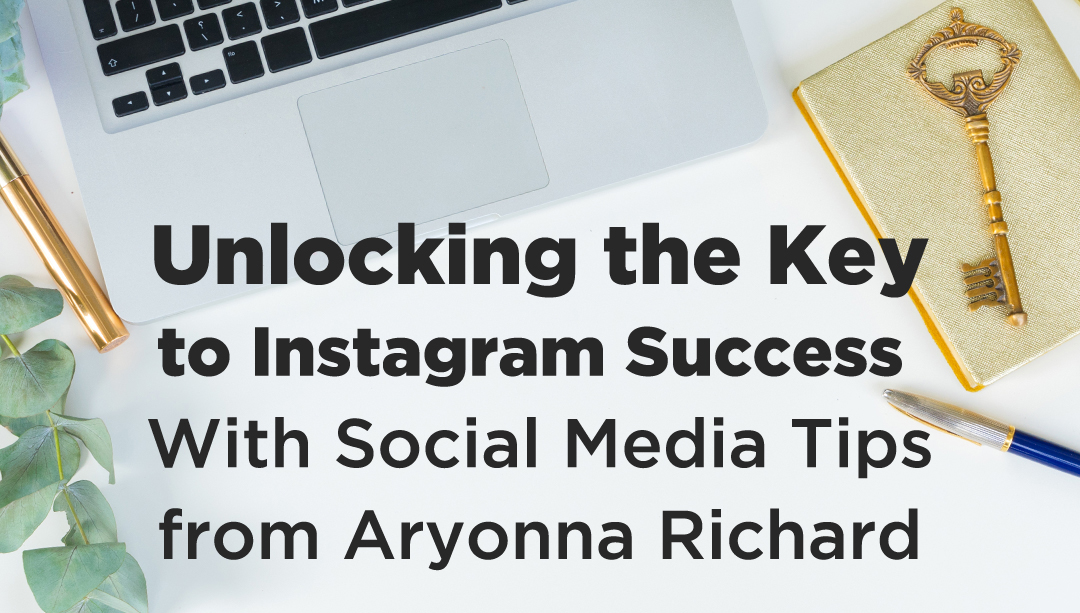 5 Instagram Strategy Tips for 2019 from Aryonna Richard
Keeping up-to-date on social media is often a job in itself. Through working with clients I've learned people often have no 'success strategy.' Businesses and entrepreneurs begin social media campaigns with no realistic goals and get over-whelmed by the pressure of creating regular content and managing an audience. Remember beginning or updating a plan is going to take WORK. It is going to take more patience than you can predict. But if you are dedicated enough to connecting, posting, and collaborating you will experience results beyond what you can dream. I still glance at the hand-made owl from Australia in my office sent from a passionate business-owner in the area as a test to the magical experiences that can happen virtually via social media.
Continue reading for my 5 Instagram Strategy Tips for 2019.
1. Craft Your Captions: Particularly with Instagram being an image-centered social network it can be easy to focus mostly on the photo you are posting. Keep in mind that most of the engagement an update can receive actually comes from the caption. Try not to copy and paste the same text as people following you day after day will get bored and could un-follow you. Remember to prompt action by getting users to like, comment, or tag another user.
2. Know Your Hashtags: Particularly WHY you are using them. Many people ask me how many hashtags to use on Instagram. My short answer is 5-10 hashtags with an emphasis on knowing why you are using the hashtag. The purpose of a hashtag is to connect the information you are sharing with other people searching for and also sharing that information. My top takeaway for hashtags is to keep the focus on integrating local tags that are relevant to your location. Keep in mind that the hashtag limit is 30 on Instagram and I encourage you to not use more than 15 hashtags as it can start to appear as spam. The aesthetic appearance of your updates is important on Instagram so be mindful of your photography, caption, and hashtags. 
3. Remember 'The Grid': Have you ever heard 'the grid' referenced on Instagram? If you haven't 'The Grid' is the standing profile that appears when users pull up your profile. It is referred to as a grid because the updates appear side-by-side as opposed to up-and-down like on Facebook, Twitter and most blogs. If you haven't thought about your Instagram profile holistically take a look at your grid to see how the photos/videos are complementing or hindering the overall appearance of your profile. Think about or look back to the last few photos you posted on Instagram to make sure the appearance of your next updates complements to the overall aesthetic of your profile. The dimensions for an Instagram update are 1080×1080 pixels. A photo that is larger will appear cutoff when viewing your grid. Try to avoid uploading wide photos as this will hinder the appearance of your Instagram profile.
4. Community Interaction is Key: What do you do if a customer follows you on Instagram? Follow them back! I am often asked how many people to follow on the platform and my answer is always; it is not about the number of people you follow but the strength in those connections. Don't be afraid to follow people and businesses on Instagram as this process is essential to community building. Following your customers shows them you care about the connection. It also gives you the opportunity to comment and like their photos, strengthening your connection. When a customer tags you in an update make sure you like and comment; the faster after they post the better from a customer service standpoint. 
5. Instagram Story Success: If you do not already take advantage of the Instagram Stories feature now is the time to start. I'm often asked how many Instagram Stories businesses should post. My answer is: use the story feature to help yourself fill in during times when you don't have time to post updates to the grid and especially during special events. Do you usually update in the morning or evening? Try to post your stories during the opposite time frame to capture users that are online during that time.
Pro Tips: Use Instagram Stories to informally promote your business. Take customers behind-the-scenes, feature staff members, get customers involved, and use the feature to post the content that may not be as polished you would like for your standing profile but is purposeful in highlighting your company culture. The story feature is also one of the best way to promote events – instead of posting several updates that will stay on your profile during a short amount of time. Try an Instagram Story Sequence or Go Live; this feature pulls your profile to the top of the stories. If you have any questions about using Instagram for your business email me at aryonna@silverlightmedia.net.