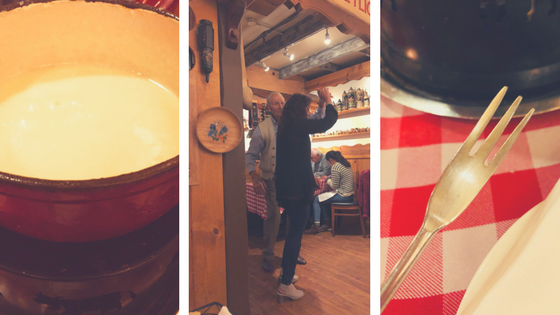 Community and Legacy Melt: Swiss Fondue in Carmel
On Thursday, January 11, 2018, I went out for a night that I knew would include fondue in Carmel, California but I never imagined would evolve into a community experience filled with laughter, dancing, and traditional European-style dining in central California.
If you are a fan of dipping or new to fondue, continue reading to learn about this dining destination. Founded twenty-three years ago by Nargis Lengacher and her late husband Chef Andre. This family-style Swiss fondue restaurant in Carmel-by-the-Sea has pioneered a legacy-making a unique impression in the hearts of locals and visitors. Every guest was personally greeted by the owner, herself, who even joined the musicians to accompany the melodies.
Located in the Barnyard Shopping Village a beautiful center for restaurants and shops located outside of downtown Carmel for those who want to avoid the struggle of parking while taking advantage of the convenience of being located off Highway 1 on the way to Big Sur. You will find Lugano Swiss Bistro under the windmill amidst the lush botanicals. Walk through the heated outdoor patio and into a piece of Switzerland the bistro has an intimate European-style atmosphere. A hidden gem filled with colorful murals reminiscent of historical Lugano.
If you are looking for the ultimate fondue dining experience in the Monterey Bay, you need to make reservations for a Thursday evening when you can enjoy live music with your meal. I listened to music from Mike Marotta and Oracio during an evening that was also a fundraiser supporting the Big Sur Health Center where 25% of food, beer, and wine sales were donated.
To start, I had the Swiss Original Cheese Fondue featuring Gruyere, Emmenthaler, and Appenzeller Cheese. All cheese fondue is served with salad, dipping bread, vegetables, and apples. Enjoy beer and wine when you dine at Lugano Swiss Bistro. For the main course, I had Pork Jager Schnitzel topped with mushrooms, demi sauce, spatzli and red cabbage.
As the evening proceeded so did the music and the dancing, at one point the crowd overtook the dance floor for the 'Chicken Dance.' A sense of community flowing through the restaurant as family, friends, and strangers joined together for a spectacle I have yet to see at another restaurant.
Whether you are visiting California from Europe, New York, Colorado, or within the state from areas like Los Angeles, Santa Barbara, or San Fransisco an evening at Lugano Swiss Bistro is the only place where old world charm can be found just miles from the Pacific Ocean.